Week 6: September 5 - 11, 2010
Welcome to the McGill Bird Observatory weekly report. Click here for a complete listing of our archives.
Comments or questions are welcome at "mbo AT migrationresearch.org".
PICTURE OF THE WEEK: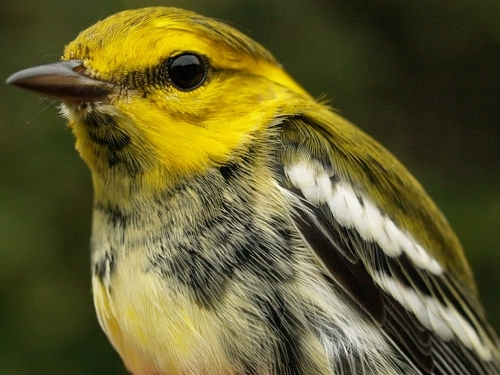 Among the many warblers banded at MBO this week, this was one of 4 Black-throated
Green Warblers, a species we usually see only in relatively small numbers each fall.
(Photo by Simon Duval)
| | |
| --- | --- |
| | MBO gratefully acknowledges the fundraising efforts of CCFA (Centre de Conservation de la Faune Ailée) in support of MBO - drop in at the store or click on the logo at left to visit the website for details on bird posters for sale with proceeds benefiting MBO. |
| | | | | |
| --- | --- | --- | --- | --- |
| | THIS WEEK | THIS FALL | 2010 TOTAL | SITE TOTAL |
| # birds (and species) banded | 416 (38) | 1482 (58) | 2357 (72) | 25866 (105) |
| # birds (and species) repeat | 43 (15) | 218 (29) | 432 (43) | 4773 (66) |
| # birds (and species) return | 3 (3) | 21 (14) | 153 (30) | 773 (37) |
| # species observed | 85 | 107 | 150 | 202 |
| # net hours | 456.5 | 3071.0 | 6630.4 | 46537.6 |
| # birds banded / 100 net hours | 91.1 | 48.3 | 35.5 | 55.6 |
Note: table does not include nocturnal banding (owls)
Bander-in-charge: Simon Duval, Lance Laviolette
Assistants: Veronica Aponte, Nancy Boily, Christine Burt, David Davey, Jean Demers, Barbara Frei, Gay Gruner, Jeff Harrison, Kristen Keyes, Barbara MacDuff, Betsy McFarlane, Chris Murphy, Catherine Russell, Charles Seguin, Clémence Soulard, Bonnie Soutar, Alex Stone, Patricia Stotland, Rodger Titman
Notes: In last week's report, we commented that the pace of migration seemed to be slowing down, and that it would need to pick up in week 6 in order for the season total of individuals banded to remain ahead of all previous years. Well, the birds took us up on that challenge in spectacular fashion, with the 416 birds banded this week shattering the previous week 6 record of 343 individuals! In fact, on Thursday alone we banded 172 birds, more than for the whole of week 6 in both 2007 and 2009, and not far below our five-year average of 215 for the week. The season total of 1482 is still far ahead of any previous year, and the rate at which birds were banded this week (91 / 100 net hours) was by far the best ever for week 6, with previous years ranging from 33 to 70. Impressively, despite the activity in the nets keeping everyone busy, this is the first time this fall that the number of species observed during the week was above average - in fact tying the record count from 2005. Thanks to all the keen-eyed observers for paying attention throughout the morning and contributing sightings to the daily totals! Olive-sided Flycatcher was observed for the first time this year, while Marsh Wren, Brown Creeper, and Slate-coloured Junco were new for fall - the junco being one of the earliest fall records for MBO. The count of species banded this fall rose by just one, with the addition of Yellow-shafted Flicker.
The big fallout of birds on Thursday set several records. It marked the first time that we have banded over 100 birds in a day before mid-September, and the 17 warbler species banded that day was one more than our previous record of 16 set two years earlier, also in week 6. In all, we banded 29 species on Thursday, just one short of the record count of 30 we had on that same day in 2008. The most numerous species in the nets this Thursday were Magnolia Warbler (44), Nashville Warbler (30), American Redstart (14), Western Palm Warbler (11), Tennessee Warbler (9), and Blackpoll Warbler (8) ... yes, there is a distinct theme! In fact, 147 (85%) of the 172 birds banded that day were warblers. To put some of these numbers in perspective, here are the fall 2009 season totals for these species, with Thursday's numbers as a percentage of that total in parentheses: Magnolia Warbler 103 (43%), Nashville Warbler 58 (52%), American Redstart 103 (14%), Western Palm Warbler 6 (183%), Tennessee Warbler 23 (39%), and Blackpoll Warbler 15 (53%).
Why did we experience such an influx of birds late this week? The movement coincided with the first northerly winds in nearly two weeks, suggesting that a large number of migrants were simply waiting for favourable conditions to start moving south. The impressive migration we documented was mirrored across much of the northeast both through radar monitoring and at other banding stations. Clearly the birds were eager to push south once conditions were favourable, since on Friday our count of birds banded dropped to 42, roughly average for the rest of the week.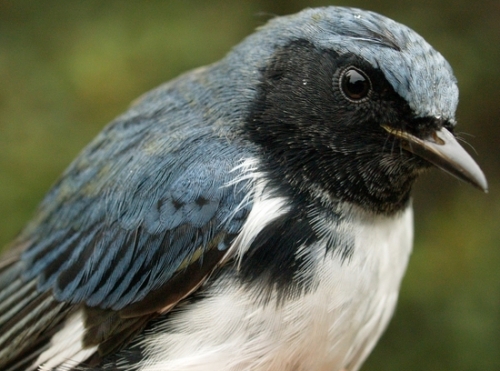 The "other" of the eastern black-throated warblers, this hatch-year male Black-throated Blue Warber was one of 10 banded this week, a good count for a species that often doesn't peak in numbers until late September.
(Photo by Simon Duval)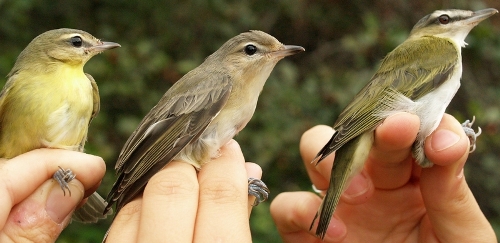 It isn't often that we get an opportunity to compare three vireo species side by side, in part because Red-eyed Vireo is the only one we typically band in large numbers. In this photo, from left to right, we have Philadelphia Vireo (average 5 banded each fall), Warbling Vireo (average 6), and Red-eyed Vireo (average 69). Note that the Philadelphia Vireo has a distinctly darker lore than the Warbling Vireo, and the yellow extends across the breast (some Warbling Vireos have more yellow than the individual in this photo, but it isn't as bold or extensive).
(Photo by Simon Duval)

As predicted last week, we have hit a new single-season record for the number of Northern Waterthrushes banded, with a total of 50, well ahead of the 39 banded in fall 2006. With all the talk of record high counts, it's worth nothing that this isn't the case for all species. We have only banded 22 Gray Catbirds to date this fall, compared to 63 last year, though we still expect to get some more until at least early October. On the other hand, we have almost certainly seen the last of this year's Baltimore Orioles, and the count of just 15 is similar to last year's record low of 12, and a far cry from 48 in 2008 and 62 in 2006.
Unfortunately, we also had some truly bad news this week. On Wednesday morning the crew arrived on site only to find that the cabin had been broken into, and over $500 worth of equipment stolen. With the assistance of McGill campus security we have implemented additional security measures, but needless to say it was a disappointing, inconveniencing, and costly incident.
On a brighter note, we had another interesting recapture of one of our own birds. On September 9 we recaptured a Warbling Vireo (see photo above) that we banded back on August 25, 2006, and have since encountered again on August 26, 2007 as well as August 2, 2009.
This week's top 10 [last year's rank for this week in brackets]
| | |
| --- | --- |
| # individuals banded | mean # individuals observed daily |
| 1. Magnolia Warbler (74) [1] | 1. American Crow (39.1) [4] |
| 2. Nashville Warbler (47) [-] | 2. Black-capped Chickadee (20.9) [3] |
| 3. Western Palm Warbler (37) [-] | 3. Blue Jay (17.9) [6] |
| 4. American Redstart (32) [8] | 4. Cedar Waxwing (13.1) [5] |
| 5. Common Yellowthroat (24) [2] | 5. Magnolia Warbler (12.9) [-] |
| 6. Red-eyed Vireo (20) [10] | 6. American Goldfinch (12.0) [2] |
| 6. Tennessee Warbler (20) [2] | 7. American Robin (11.0) [7] |
| 8. Wilson's Warbler (18) [-] | 8. Western Palm Warbler (10.4) [8] |
| 9. Northern Waterthrush (17) [2] | 9. White-throated Sparrow (9.7) [-] |
| 10. Blackpoll Warbler (14) [-] | 10. Common Grackle (8.9) [1] |
For a third week in a row, Magnolia Warbler tops the list of birds banded, again by a large margin. Except for Red-eyed Vireo, all others in the top ten this week were warblers - the first time ever they have claimed such a large proportion of the list. Nashville Warbler and Western Palm Warbler shot into second and third place from out of nowhere this week, largely thanks to strong midweek flights. We banded nearly as many Nashville Warblers this week as in all of fall 2009 (58), but this week's count of 37 Western Palm Warblers was even more impressive, considering that it exceeds the fall season total for four of the previous five years! American Redstart rebounded to fourth place, extending its record-breaking season total to 139, while the continuing strong push of Common Yellowthroats brought the count for this fall to 82, quickly approaching the old record of 93. Wilson's Warbler was also new to the list this week, with more individuals banded in the past seven days than in all of fall 2009. Tennessee Warbler and Northern Waterthrush dropped in rank this week, but still had unusually good numbers. Even tenth place Blackpoll Warbler was impressive, considering we banded 14 this week (all of them on Wednesday in fact!), and just 15 all of last fall. Approaching the mid-point of this fall, we have already banded 25 or more individuals of 14 warbler species.
There was a fair amount of change this week in the list of species most frequently observed. American Crow returned to top spot, where it has been during this week in three of the previous four years. Black-capped Chickadee remained near the top as in recent weeks, but last week's most dominant species, Common Grackle, dropped all the way to tenth place, and American Goldfinch numbers were also lower this week. Instead, Blue Jay and Cedar Waxwing moved up into the top four, and Magnolia Warbler jumped back in to fifth place, as it was a couple of weeks ago. Western Palm Warbler made its first ever appearance on this list, and White-throated Sparrow is there for the first time this season, but sure to climb in ranks in the coming weeks.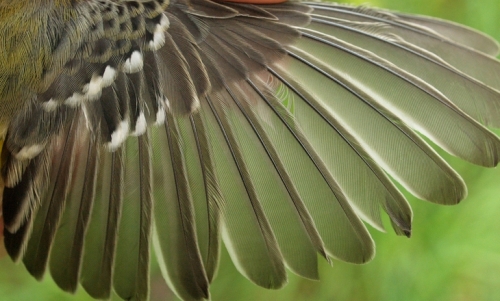 Here's the lates in our continuing series of photos documenting unusual molt patterns. Magnolia Warblers generally replace all of their greater coverts during their preformative molt, but in this case the outer two juvenile feathers have been retained, though the carpal covert (above and to the right) has been replaced and is contrastingly dark and gray-edged.
(Photo by Simon Duval)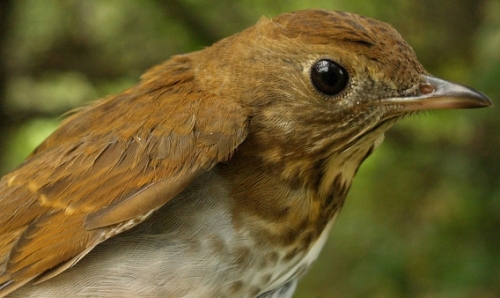 As we approach the middle of the season, it's time to say farewell to many of the early migrants we're not likely to see again until next May. We occasionally have banded Veery as late as week 7, but it could be that the one in the photo above was our last for 2010.
(Photo by Simon Duval)